I feel like I've been trapped in a cage and finally let out. It's freedom!

Abby, Camp Blue Spruce camper
Camp Blue Spruce is dedicated to providing an authentic and fun overnight camp experience for children with food allergies. By creating an environment free from the top-9 food allergens plus all gluten with qualified medical staff on site, campers feel safe and are released from the worry and anxiety they face daily while navigating their allergies. Even the camper's parents can be worry free!
Camp Blue Spruce families become part of a community of people who share a common experience. Camp Blue Spruce campers leave feeling more confident and independent. Many become more accepting of their food allergies, and they all realize they are not alone.
Camp is open to kids and teens with food allergies, celiac disease, and other related conditions. (See below for more information.)
Camp 2023
Two Sessions
August 7 – 12, 2023
August 14 – 19, 2023
Registration Opens December 15th at Noon Pacific Time
Campers:
Kids entering 4th through 8th grades can be campers. See below for more camp details.
Learn more about our 2022 COVID protocols here.
Registration for Overnight Camp opens on December 10 at Noon Pacific.
Teen eXplorer Camp (TXC):
The TXC program is for teen campers ages 14 to 16 and entering 9th through 11th grade.
Counselors In Training (CIT):
The DeMerell Leadership Initiative – Counselor In Training Program offers teens a route to progress from camper to staff. CITs are 17 year old high school students generally entering their senior year.
---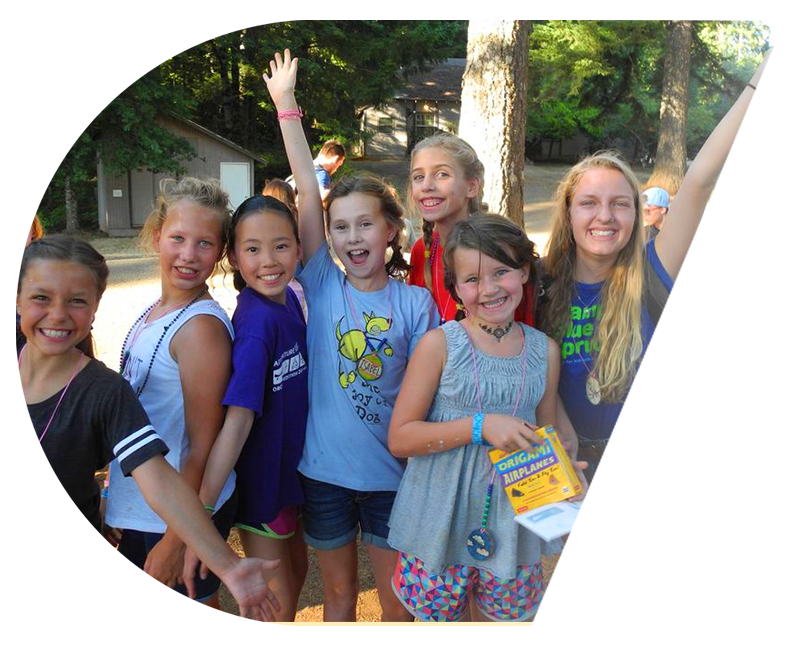 Camp Life
Nestled at the base of the Oregon Coast Range and surrounded by 160 wooded acres, Camp Tapawingo is hosting Camp Blue Spruce again this year. This wonderful facility features a variety of fun activities, including an outdoor swimming pool, a big playing field, a pond with canoeing, a gaga pit, many hiking trails, and a creek as well as a big gym and an arts & crafts room.
Food
Our camp is free of the foods that cause more than 90% of allergic reactions, including dairy, eggs, peanuts, tree nuts, fish, shellfish, wheat, soy, gluten, and sesame. Eating is one of the main activities at Camp Blue Spruce! The food at Camp Blue Spruce is delicious, healthy, and top-9 allergen-free.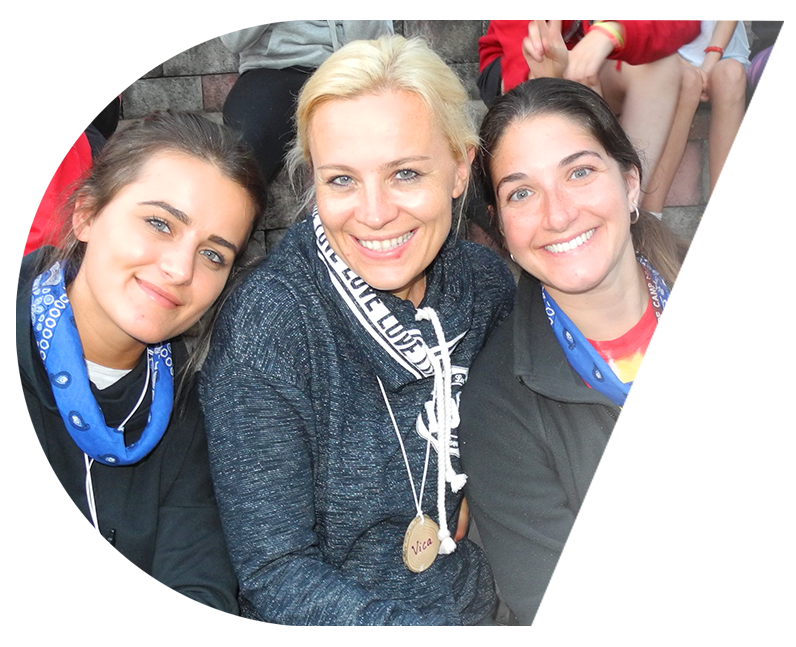 Health House
Some of Oregon's leading allergy doctors provide medical advice for Camp Blue Spruce. For many years, Columbia Allergy has donated up to five allergy clinic staff and nurses who volunteer alongside our professional camp nurse.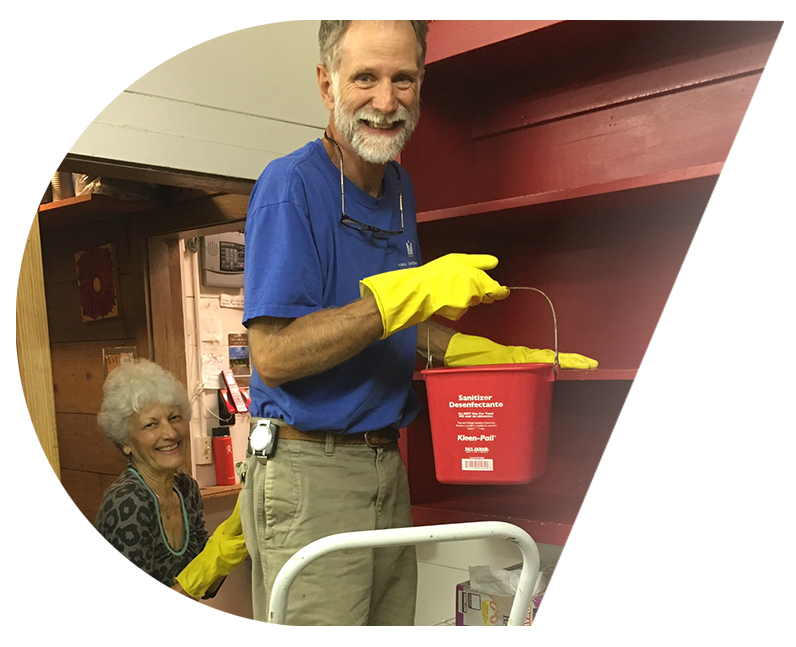 Elite Cleaning Team
Before camp begins, a dedicated crew of allergy-aware people implements a multi-pronged cleaning protocol. They scrub and sanitize the kitchen, dining facilities and all the common areas at camp, including the art room, cabins, and gym and gym equipment. Camp Blue Spruce brings its own kitchen equipment, including cutting boards, pots and pans, knives, and mixers to ensure that everything is safe. If you would like to join the Elite Cleaning Team, please sign up to volunteer!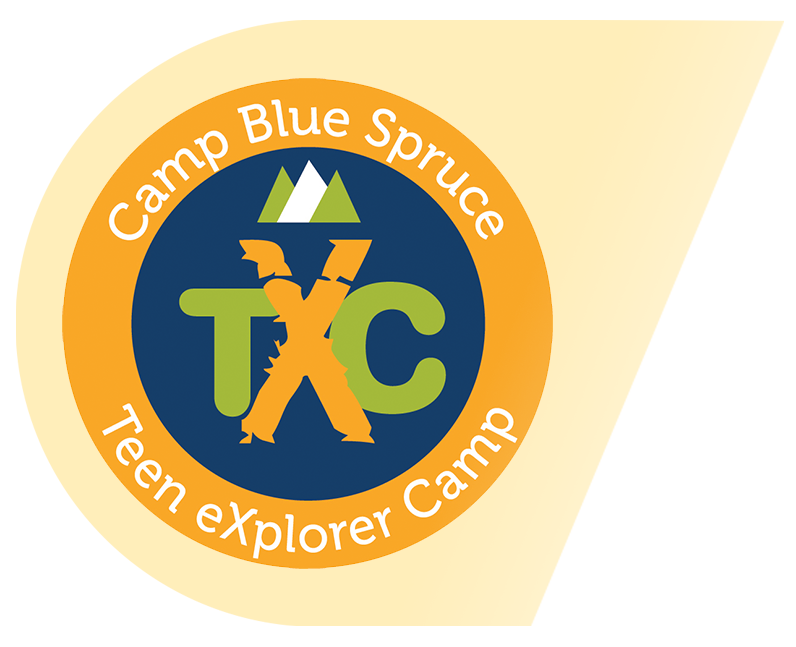 Teen eXplorer Camp at Camp Blue Spruce
Teen eXplorer Camp (TXC) is for teens who want to make new friends, take part in activities that challenge them, and have a blast in the great outdoors! TXC focuses on personal growth & responsibility, self-reliance and teamwork. TXC highlights include a special off-site adventure, a challenge course and camping out under the stars in addition to regular camp programming. TXC campers stay in their own teen unit and enjoy all the fun of camp while venturing out and testing their limits. Teens build strong friendships, independence, and self-assurance in this very popular program at Camp Blue Spruce!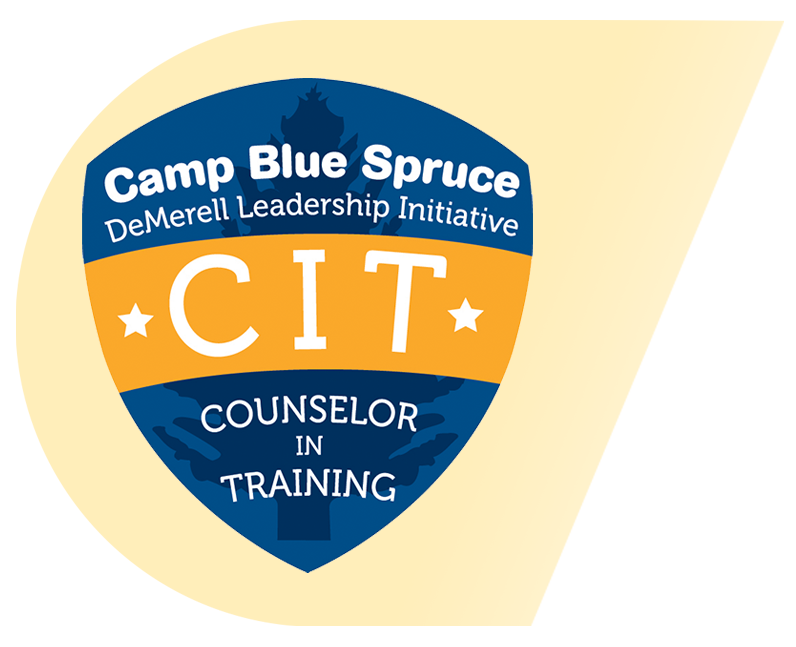 Counselor In Training (CIT)
The DeMerell Leadership Initiative – Counselor In Training Program provides a progression from camper to staff and fosters valuable leadership skills that prove beneficial in every aspect of life – at camp, home, school, and work. Participants must complete a competitive application and be selected to participate.
A portion of the day is spent on camp and leadership skill building. Activities may include, but are not limited to, CPR/Basic First Aid, communications, human relations skills, youth development, and Camp Craft.
In preparing to become a cabin counselor, CITs shadow cabin groups and plan, lead, and participate in a variety of camp activities. We emphasize community living, team building and other group development activities.
If you are interested in being a CIT, first register for overnight camp. We will send an interest form to be completed by the prospective CIT.
Age/Grade: Teens who are at least 17 years old can apply to be a CIT. Parents or guardians should register their CITs above. Camp Blue Spruce will reach out to all eligible participants with more information about applying to enter the program.
If you have any questions about camp, please reach out! Allergy parents are not used to sending their kids to camp, and we understand. You can reach us at 503-726-8886 or info@campbluespruce.org.
---
Tastes Like Freedom, a documentary film, is the remarkable story of Camp Blue Spruce and its campers. This intimate portrayal reveals the social and emotional challenges of living with food allergies and the freedom these kids experience at camp.
Written and directed by Eric Stachon of Leftcoast Media, produced by Tara Johnson-Medinger and edited by Emily von W. Gilbert.