Camp Blue Spruce is overseen by a highly competent Board of Directors that includes health care professionals, financial and fundraising experts, communications specialists, and parents of children with food allergies. Our programs are managed by camp professionals, certified chefs, and nutritionists. Here's a little more about us!
Board of Directors
Melissa Rapela, Board President
Melissa has vast experience with systems management, fundraising, and volunteer organizing. Melissa is a dedicated volunteer recruiting most of our corporate supporters and working in the camp kitchen each year. Melissa is a parent of two campers. Melissa loves to ride bikes, garden, play games, and laugh a lot with her friends and family.
Michelle Brunell, Treasurer
Michelle is a parent of a camper with food allergies. Michelle is also the Owner/Chief Financial Officer at Home Instead Senior Care in the Kansas City area.  Prior to Home Instead, Michelle worked in Health & Safety for the Missouri Division of Labor Standards and at Honeywell in management. During her free time, Michelle travels, reads, exercises, and cooks for her family!
Heather Guth, Secretary
Heather is the Nursing Manager at Columbia Asthma & Allergy. She oversees nurses and collaborates with all clinical staff in sixteen offices in four states. For the past six years, she has volunteered at camp and has recruited most of our medical team. Heather is also a parent of a child with food allergies, who is not yet old enough to attend camp. Heather loves the outdoors and spends time leading a Scout Troop and enjoying CrossFit, hiking, and camping adventures with her family.
Randi Orth, Board Member
Randi brings a wealth of knowledge around volunteer programs to Camp Blue Spruce. She currently works as the Volunteer Program Manager at Kaiser Permanente Northwest. Before that, she organized volunteers for a number of non-profits in the Portland area. She has an authentic enthusiasm for summer camp, outdoors, laughter, and teamwork-to-make-the-dream-work.
Nicole Tuite, Board Member
Nicole is the Vice President of Customer Experience at CareOregon. She has spent much of her career focused on healthcare and technology strategies. She brings expertise in program management, operations leadership, experience improvement, and communications.  Nicole is a parent of a camper with food allergies. Nicole's latest adventure is taking care of the family's pet pig and pet goats at her suburban home!
Carolyn Westerback, Board Member
Carolyn brings years of experience as a Development Director and fundraising volunteer for Oregon non-profits. She has experience with community relations, legal, financial management, ambassador programs, and donor relations. Previous to serving nonprofits, Carolyn worked in IT and sales management. Carolyn is a parent of a camper. She especially enjoys exploring the Oregon coast with her family, collecting beach treasures, and fishing.
Lead Staff and Volunteers
Many counselors and mentors work hard throughout the year to make sure our programs are successful! Most are volunteers and/or work on a part-time basis. We are fortunate to have this amazing group of people making life better for kids and families with food allergies! Meet the leadership team that pulls it all together.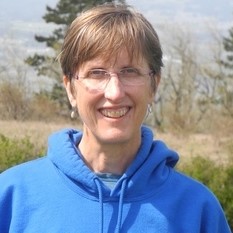 Louise Tippens, Executive Director
Louise loved going to summer camp as a child and wanted her (now-grown) son to have the same formative camp experiences as she did. But because of his life-threatening allergies to 6 of the top 8 allergens, she couldn't find a summer camp that could safely accommodate him. So Louise, who is known by camper families as "Rudy Rutabega Riversong", started Camp Blue Spruce. Founding CBS was the culmination of Louise's career in non-profit management, program development, community involvement, and project planning.  Louise loves singing (especially camp songs), laughing, and you guessed it…..camping!
Chelsea Hendrikx, Program Director
Chelsea has been with Camp Blue Spruce for many years in a variety of capacities. She originally volunteered and served on our board while working as the Program and Outreach Manager at Northwest Outward Bound. She was the Field Office Executive for the American Camp Association in the Evergreen and Oregon Trail regions and began her camp experience as the Program Director at Huston Camp and Conference Center in Gold Bar, WA. She has extensive experience in program development, community building, and leadership training. Chelsea has two small children with food intolerances. When she is not making Camp Blue Spruce the greatest camp in the world, she enjoys camping, rafting, and exploring the outdoors with her family.
Abigail Morrow, Allergy Pals Coordinator
A native of the mighty Midwest, Abigail is the author of Death by Sandwich: Thoughts on Living the (Food) Allergic Life and has a background in museums and education. Working with Allergy Pals, Abigail draws from her own experience managing her allergies to help kids develop confidence in living with their chronic health conditions at home, school, and in public. She also recruits, trains, and supports college-age mentors. When Abigail is not wearing her professional hat, you can find her knitting a sweater, brewing the perfect cup of tea, or spending time with her dog, Lucy, who shares both her birthday and her allergies!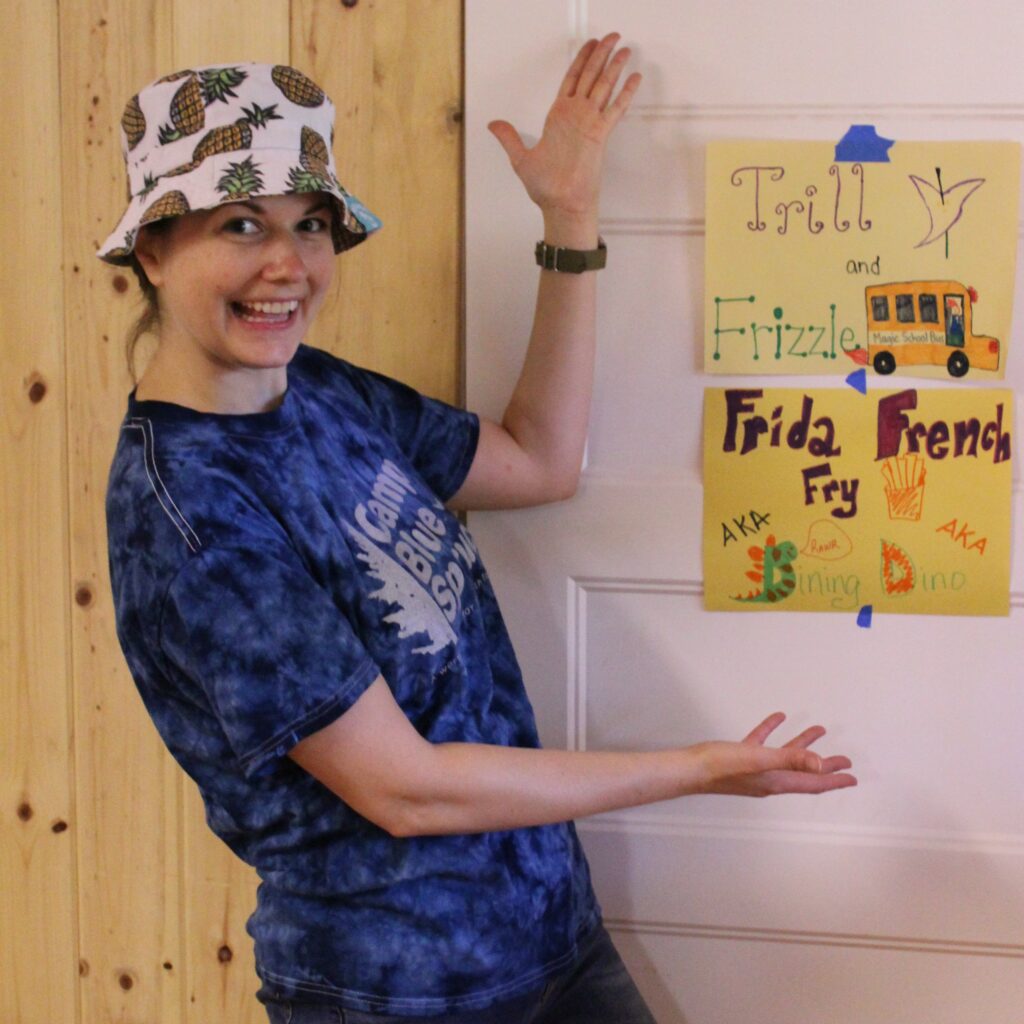 Wende Leverton, Communications and Engagement Coordinator
Wende joins the Camp Blue Spruce Team after a 5-year tenure with Enjoy Life Foods as a Brand Ambassador and Marketing Coordinator.  She lives in Chicago and first connected with us while attending a GF & Allergy Festival in Portland, OR on behalf of Enjoy Life Foods. In 2017, she volunteered with Camp Blue Spruce as the Dining Dino & saw first-hand how impactful & truly magical the CBS experience is. Wende is excited to be a part of the Camp Blue Spruce Team as the Communications and Engagement Coordinator and cannot wait to connect with you! In her free time, Wende can be found baking allergy-friendly treats, playing with her two cats, scrolling TikTok, or binging Netflix with her husband. 
And her favorite emoji is the smiley face with a tongue, because she's all about not missing out on delicious food even when living with food allergies & intolerances.
️
Elizabeth Moreno, Food-Free Fun Co-Coordinator
As an advocate, Elizabeth was the Chairperson of the 2015 and 2016 Portland FARE Walks for Food Allergy and connects with the food allergy community via her Instagram account, foodallergymama. She's a freelance writer who loves to find ways to make traveling with food allergies a reality for her family. Her two sons have multiple food allergies. One is going to be a counselor at Camp Blue Spruce! Her favorite food-free activity is salsa dancing.
Tracy Lehto, Food-Free Fun Co-Coordinator
Tracy knows first-hand how diet restrictions can impact kids' ability to feel fully included in social situations as one daughter has celiac and the other has food allergies and is gluten intolerant. Tracy started a local branch of Generation GF, a support organization for children who can't eat gluten. She is excited to bring the food allergy and gluten-intolerant communities together to create more social and educational opportunities for them both. She is a dedicated member of camp's Elite Cleaning Team, and her daughters have attended camp since the very first summer! Her favorite food-free activity is camping in the beautiful Pacific Northwest.